Check Your Core/Context Fit (Also Known As Product/Reality Fit)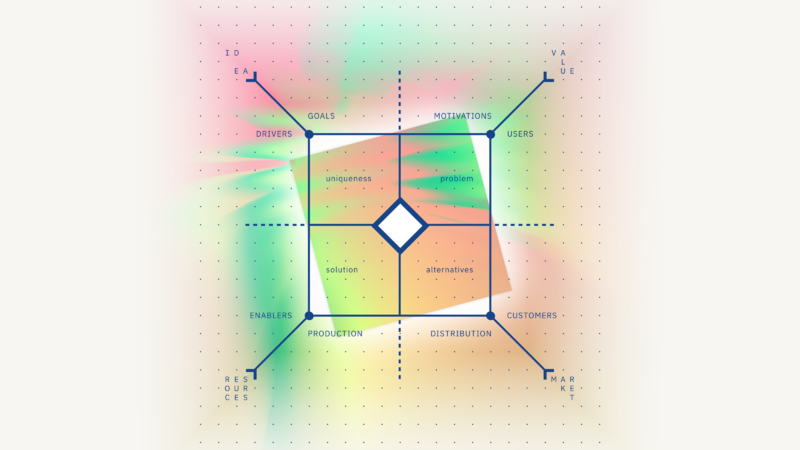 April 13, 2023
This is a translated and revised version of a post we guest-authored back in 2015 for the 'produktbezogen' blog. It's about why the Core/Context Fit is the foundation for product success. And how the Product Field helps you find it.
Every product development takes place in a unique constellation of forces. These forces emanate from behaviours of users, customers, markets, and even societies. But also from operational activities and dynamics within the organization. In our experience, both kinds of forces, external and internal, are equally important:
External Forces determine what people really want or need. If we neglect that, we are very likely to build the wrong product.
Internal Forces determine our ability to deliver a suitable solution at a reasonable velocity. If we neglect that, a validated customer problem is of no use to us at all.
Taken together, these forces shape the context of product development. Needless to say, it is crucial for every product manager to know and understand this context really well. And, above all, to raise context awareness among all actors and stakeholders.
But what exactly does the context look like? What aspects are we talking about? Can the context be systematically described and explored?
How exactly are contextual aspects related to core aspects of the product? Can we capture these relations in a structured way?
How exactly does the context pay off on product success? Can we explore it methodically in a workshop format?
Is there a way to find implicit risks and opportunities faster and more accurately? Or even to understand and assess theorganization's innovativeness?
These questions have repeatedly come up in our work as product people, be it as a designer (like Michael), a strategy consultant (like Wolfgang), or as a corporate product guy (like myself).
Sure, there already are numerous helpful innovation methods out there. However, these approaches usually address only partial areas of the context.
To see and understand the big picture, we needed a different tool. One that made the state of a product development and the overall innovativeness visible in its entirety. And because we needed such a tool in our work, we started its development last autumn (2014).
After what felt like 50 iterations, fueled by ever new insights from interviews and testing with real cases, we were ready to present the result at the Product Tank in Hamburg in June (2015).
Meet The Product Field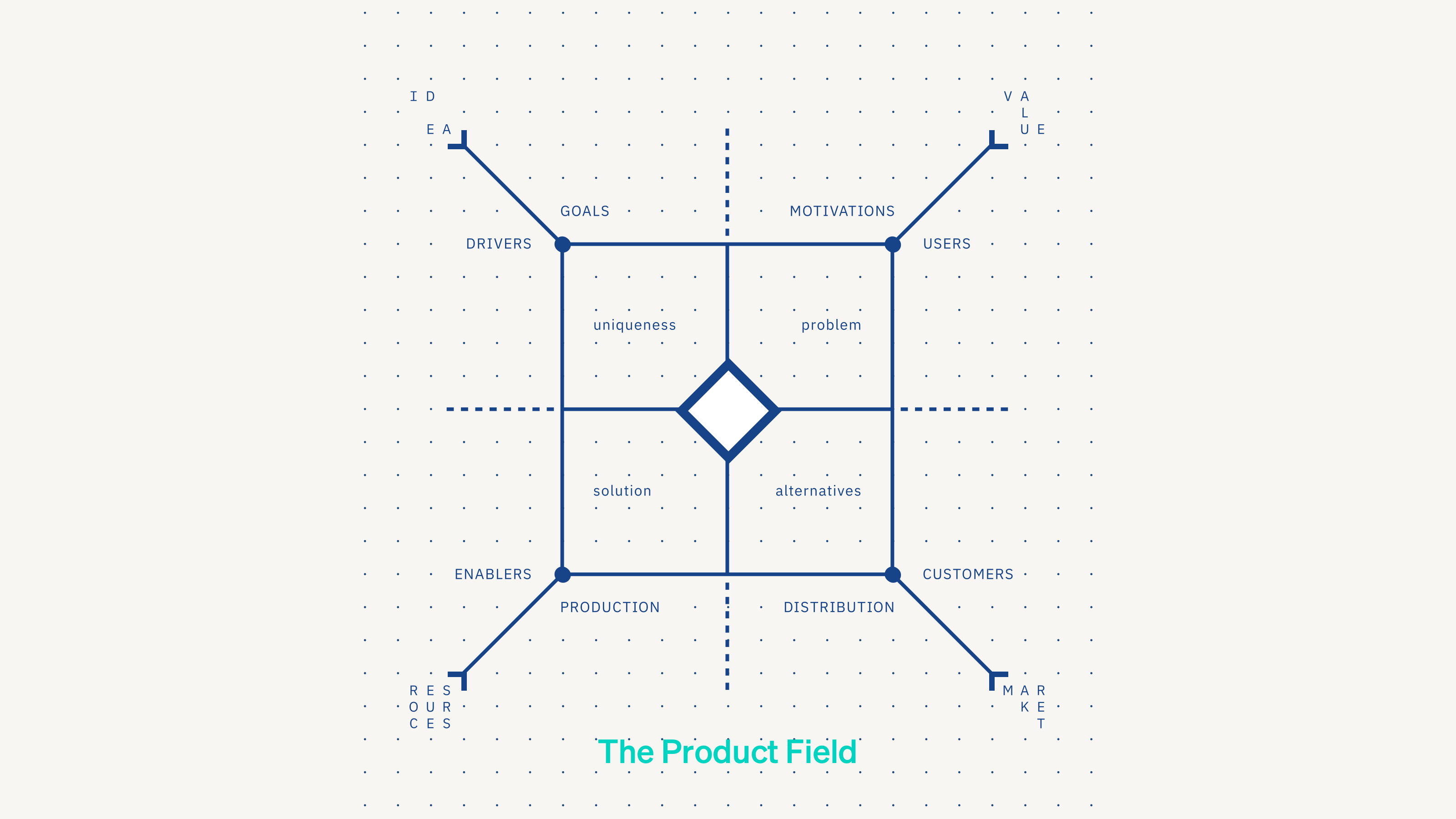 Context, Please!
In our experience, the context of product development always consists of these eight aspects:
DRIVERS and their GOALS
The strategic goals and the qualities of the drivers (for example, the product manager) determine how much the product will excel at uniqueness.
USERS and their MOTIVATIONS
Whether the product solves the right problem depends on the certainty of knowledge about the motivation of users.
DISTRIBUTION towards CUSTOMERS
To get the product into the customers' minds and hands, it always needs to bypass alterntive solutions.
ENABLERS for PRODUCTION
The production of the solution is always dependent on enabling forces or resources.
The Core
At the core of every product resides its value proposition. It consists of the four aspects already mentioned above in the descriotion of the context:
Problem
relates to USERS and MOTIVATION.
Solution
relates to ENABLERS and PRODUCTION.
Alternatives
relate to DISTRIBUTION and CUSTOMERS.
Uniqueness
relates to GOALS and DRIVERS.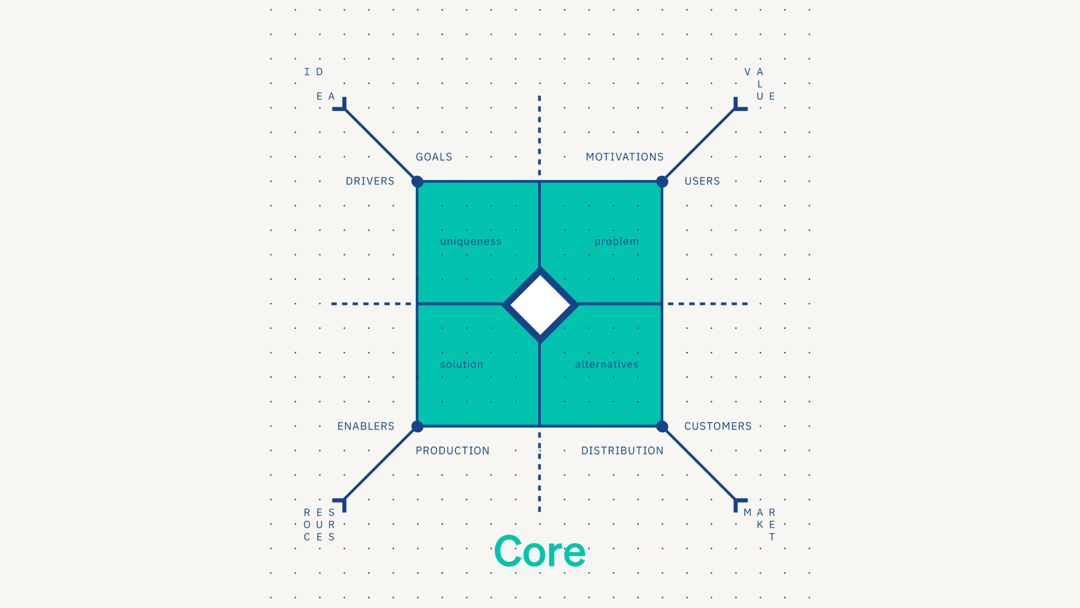 On the Product Field, the relations between Core and Context aspects are reflected by their location and proximity to one another. By exploring these relationships, we can determine how well the product (idea) fits into reality.
Introduction & Realization
This visual arrangement of aspects results from two space-shaping axes, which can be very helpful when using the Product Field:
→ Introduction from the In to Out
The left side represents the inside, i.e. the internal aspects of the innovating organization. You could also say that this is where "invention" happens. And on the right, there is the outside where "diffusion" happens. Every successful product innovation follows a flow from the inside to the outside, i.e. from left to right on the Product Field. We call that trajectory "introduction".
↓ Realization from Abstract to Concrete
While the top area of the Product Field is all about rather abstract aspects of product development, the aspects at the bottom are more concrete. We call that trajectory "realization".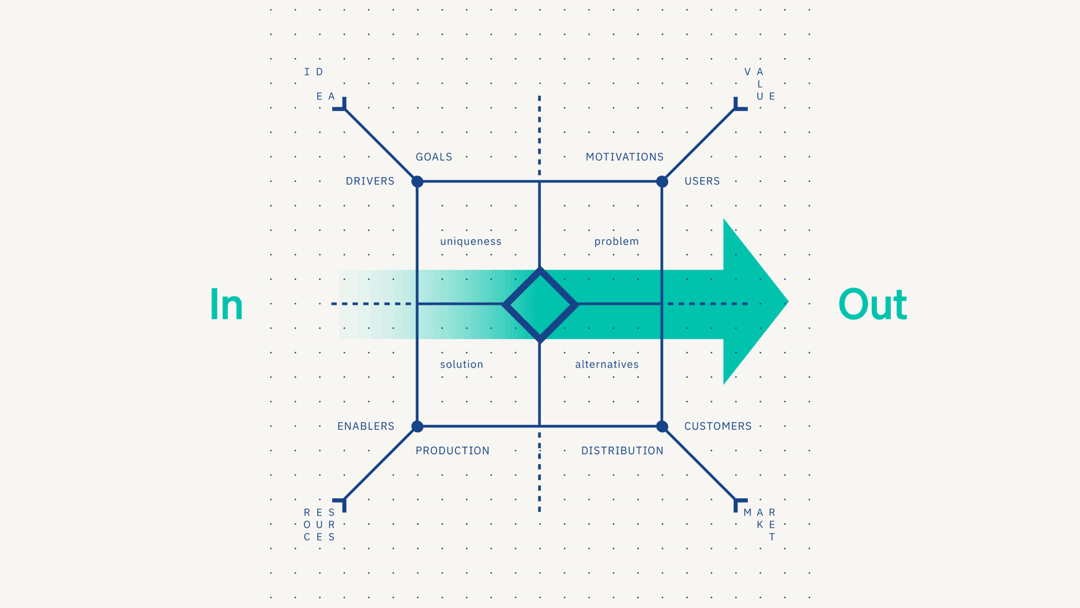 Mind the Core/Context Fit !
Just like we strive for Problem/Solution Fit and Product/Market Fit, we need to make sure our product development has Core/Context Fit, also known as Product/Reality Fit.
The Product Field is a practical workshop tool for you and your team to methodically investigate whether your product development has Core-Context Fit. Or whether there are gaps and imbalances that jeopardize product success.
In practice, this actually works really well — given that a) the facilitator has some experience with the Product Field and b) all relevant stakeholders join the session, ideally even C-level in case you're in a corpparate environment.
This way, hidden weaknesses can not only be made explicit more quickly and accurately, they can also be addressed more effectively through stakeholder buy-in.
Go Check The Fit!
Go check the Core/Context fit of your product and make sure it connects well to reality. And if you want us to help, please hit the button and schedule your call ...
Further Reading
Further insights and information about the Product Field can be found on productfield.com and at Komfortzonen.de. Also, there is a video of the premiere at the ProductTank Hamburg, and some lovely photos here in this blog. And here's the original post on produktbezogen.