Product Management in One Word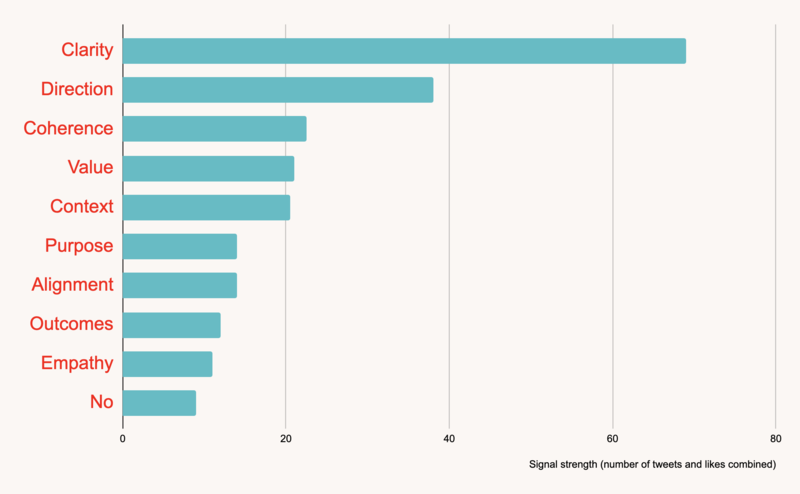 January 31, 2022
A few days ago, I asked product managers on Twitter to share what it is they provide — by using just one word. My hope was to get some strong signals on what product management is really about. The very essence of it. This post aims to make sense of 250+ inspiring responses this tweet has triggered:
To be honest, I was a little surprised by the number of responses and words that came up. According to the emerging thread, there are 115 different "one-word" takes on product management.
Of course, some of them came up more and evoked stronger endorsements (likes) than others. So in order to find out which words work best to get to the gist, I had to create a list and do some counting.
This was an interesting process in itself which lead me to these three ways to look at and use the data:
Presenting the entirety of all these crisp and meaningful words to let them work on us.

Highlighting the top 10 words to create some common ground in a comprehensible way.

Narrowing down even more to the three strongest words for the sake of conciseness.
The chart I picked for the header of this post shows the top 10 one-word takes on product management. Ranked by the number of tweets plus received likes. Here's the spreadsheet I used to consolidate the content and calculate the ranking.
For the benefit of information value, I removed two "funny" replies that actually rank 2nd and 7th: "Disappointment" (a tweet from @producthumour got a lot of attention) and "Treats" (things like donuts, pizza and chocolate got mentioned quite a few times).
Sure, those "funny" replies are strong signals, too. And it wouldn't be wise to just ignore them. You will find the "unredacted" content and ranking in the spreadsheet linked above, so you can check out the raw data yourself and draw your own conclusions.
115 (!) one-word takes on product management
Now that we've kicked off with the top 10, let's have a look at the entirety of PM responses, which revealed a staggering 115 different words. Almost all of them really on point. Fascinating stuff IMO — enjoy!
Clarity, Disappointment, Direction, Coherence, Value, Context, Treats, Purpose, Alignment, Outcomes, Empathy, Magic, Why, No, Questions, Answers, Facilitation, Focus, Product, Energy, Solution, Therapy, Support, Balance, Perspective, De-risk, Patience, Stories, Insights, Bridge, Scapegoat, Hope, Voodoo, Support, Comedy, Velocity, Understanding, Humbleness, Organized chaos, Heuristics, Synergy, Orientation, Impact, Storytelling, Concept, Ground, Mitfreude, Intermediation, Choices, Slides, Conscience, Values, Unity, Navigation, Flow, Ideas, Mission, Demystification, Momentum, Vision, Sanity, Gantt, Brain, Compass, A need, Interpretation, Structure, Satisfaction, Lubrication, Scope, Strategy, Trust, Noise, Innovation, Lucidity, Differentiation, Guardrails, Calmness, Why-what-how, Prioritization, Babysitting, Beauty, Oomph, Intuition, Connections, Aircover, Umbrella, Nudge, Guidance, Services, Jokes, PMF, Unlocks, Stewardship, Data, Reality Check, Scapegoat, Deadlines, Humanity, Viability, Ambiguous unambiguity, Customer advocacy, Humility, Hypotheses, Stress, Intelligence, Commentary, Pivot, Communication, Almost, Scheduling, Pepto-bismol, Results, Relief, Headache

Okay, some product managers (PMs) use two words. But hey, in some languages, these could easily be turned into one word anyway ;-)
Clarity, direction & coherence
While browsing through all these wonderful one-word takes on product management is truly inspiring, I'd like get back to the top rankings for a moment and focus on the three terms with the highest level of agreement:
Clarity

Direction

Coherence
IMO, It is fair to say that these three terms do a great job at communicating the essence of product mangement. And it's not just my opinion. The data backs it up, too. According to 100+ product people that joined the discussion on Twitter, those are the main kinds of value contrbution PMs need to focus on.
The questions is, though, do PMs have the time to do what it takes to contniuously provide clarity, direction and coherence? I mean, most PMs work in contexts that force them to solve execution problems all the time.
Do PMs have the tools to navigate the ever-evolving context and get a coherent view on how things are connected? To share their findings with a clear message without neglecting the inherent complexity of product development? To find common ground and direction together as a team and beyond?
This is really difficult and time-consuming stuff, and one could only hope that at some point, PMs find ways to make room for the actual challenges and shift their focus accordingly.
This is why we started Field in the first place. Building and offering a tool for PMs and product leads to facilitate collaborative thinking and action to provide just that: clarity, direction & coherence.
Want to have a look at Field and see how it works?

Klingt das interessant?
Starte deine zielgerichtete Field Testphase mit einem unserer Product Coaches. Oder buche eine persönliche Demo Session.
Ending on a High Note
Mitfreude

by Gurpreet Singh